When starting a knowledge-based venture there are a lot of things to keep in mind, which can be hard to focus on when all you want to do is to perfect your business model and take it to the market. ICM Advice helps inventors and entrepreneurs with basic coaching of what is needed for them to lead their projects to success. Advice includes:
Technology landscape
Fundamental intellectual property strategy
Business Design
Technology Landscape
In a world where interconnectivity and transparency are becoming more and more important for businesses striving for success, while at the same time competition is hardening, having a well-developed assessment of technology landscape will help you to initiate the strategy to make the most out of your core technologies. Based on knowledge, tools and experience in running venture in Chalmers School of Entrepreneurship, we offer you an better view of technology landscape related to your core technology. 
Intellectual Property Strategy
Knowledge is key for competitive advantage, and IAA is a tool for dissecting general statements such as "we are good at manufacturing" to expose strengths, weaknesses and opportunities in your operations. We identify and assess your operations, and offer an analysis of what value and control you have, and how you can leverage it for further growth. Besides, we analyse the key players in the field and factors that may hinder you from entering your targed market. Based on that, we will provide you IP strategy and SWOT of each strategy. Having a defined IP strategy will increase the structure of making investment options, and shed light on what is otherwise considered "business gut feeling" decisions.
Business Design
All your effort are likely to end up in nothing if you could not know how to monetize your intellectual assets. At ICM Advice, we support you with assessing the techno-economic relationships. Together with intellectual property strategy, we can enable you to create sustainable business model in order to create and deliver values to your targeted customers. 
Please note that the  ICM/ELS- program does not bear any responsibility for the quality of projects carried out by ICM Advice, which are conducted by the consultants at ICM Advice independently of their education.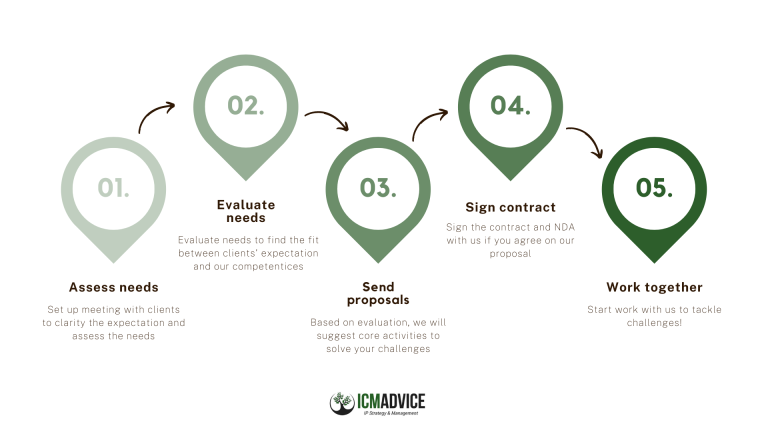 You are interested in working with us? Contact us now and we will reach out to you soon.